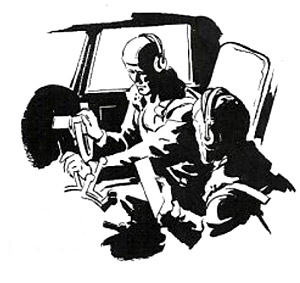 Checklist
CHECK-LISTS FOR
EMERGENCY : RESTARTING AN ENGINE IN FLIGHT (B.2.1)
EMERGENCY : LOSING 1 ENGINE (H)
EMERGENCY : CROSS-COUNTRY LANDING (I)
[IMPORTANT] This plane is designed to be started from a "Cold & Dark" configuration. Systems are not configured to work properly if the plane is loaded with engines running.
[IMPORTANT]Checklist done to B.3.3 MUST be executed in 3d view with the mouse, NOT with shortcuts !
A.1 - IMMOBILIZATION OF B17G
Push the brakes primer
Set brake primer (pull back 25% for grass, 50% for hard surfaces)
Park Brake ON (handle up)
Lock the tail wheel (only unlock when ready to taxi)
Open cowl flaps
Check trims : ailerons, rudder, elevators at neutral position
Check payload and fuel (menu Aircraft/Payload & Fuel) - Wing tanks (1 & 3) must be 100% filled before using central tank (2) - Consider 800lb/100nm or 1350lb/hr
Set fuel cross-feeds to NONE
Set tank selector to NONE
A.2 - CALIBRATE PEDESTAL
Toggle Manifold Pressure Selector (MPS) all the way round
Set MPS to 1
Toggle torque limiter all the way round from MAX (pushed forward) to none (pulled all the way aft)
Set torque limiter to none
Toggle all 4 waste-gates from on (pushed in) to off (pulled out)
Set all 4 waste-gate to ON (pushed in)
Toggle Prop speed handles all the way up and down
Set prop speed handle to high RPM
Toggle throttles from min to max
Cut off throttles
Set magnetos to OFF
Set the LOCK MIXTURE AFT (auto system ON)
B.1 - TURNING ELECTRICALS ON
Turn on Battery 1
Turn on inverters 1 & 2
Turn NAV lights ON
Turn left wing light ON
Turn on the radio stack
Set NAV1 frequency as needed - PDI should come to life
Set COM1 frequency
Set transponder to STBY mode
Turn IDI ON
Acknowledge weather
Turn IDI OFF - Short alarm must ring
Set IDI HDG
Set IDI FL
Set IDI Bank to 5
Contact tower to file flight plan
Contact tower to pick up flight plan
Set COM1 frequency
Set the transponder code
Contact tower for taxi clearance
B.2 - START-UP SEQUENCE
Set MPS to 8
Set tank selector to ALL
Turn on batteries 2 & 3
B.2.1 - STARTING THE ENGINES
IF RESTARTING IN FLIGHT : feather the propeller
IF RESTARTING IN FLIGHT : turn generator off
advised starting order : 1 2 3 4
Unfeather propeller ONLY IF ON GROUND
Turn fuel pump ON - Fuel pressure -> 15 PSI
Turn fuel valve ON
turn on magnetos to BOTH
Throttle 1/3 aft
Engage starter - 15 seconds max - ONLY IF ON GROUND
IF RESTARTING IN FLIGHT : set 2500 rpm and unfeather propeller
B.2.2 - WHEN ENGINE IS RUNNING
Turn the engine's generator ON
Check electrical power is actually delivered
Set throttle for Manifold Pressure 25
Engine Temp should be 40 degrees C or greater at engine idle
Redo B.2.1 & B.2.2 for other 3 engines
B.3 - ENGINES TESTING
B.3.1 - PREPARATION
Check PROP pitch to high RPM
B.3.2 - TESTING
advised order : 1 2 3 4
Test both magnetos (left and right, per engine) : loss of 150 rpm max when cut off acceptable
Set magnetos to both
set MP42
FEATHER the prop : engine should NOT stall and keep > 720rpm and < 950rpm
Redo B.3.2. for engines 2, 3 and 4.
B.3.3 - SETTING UP TAKE-OFF CONFIGURATION (ENGINE RUN-UP)
Unfeather all propellers
Check 4 engines RPM < 2400 rpm
Reset all engines to : IDLE
Contact Tower for altimeter setting
Set proper barometric pressure
Fix vacuum compass heading
Check all instruments panel readings for any out of range condition
C.1 - TAXIING
Turn on Beacon
unlock tail wheel
unlock park brake
Do not exceed 20mph
Keep manifold pressure below 15
use only external engines with differential power to turn in combination with rudder - DO NOT USE ailerons !
if you don't have a multi throttle joystick, please, see faq.
Keep stick pulled
Parkbrake on
Contact tower for take-off clearance
Confirm tail wheel is relocked after lined up on runway
C.2 - TAKE-OFF
C.2.1 - COURSE
Flaps 1/5 (45000lb) 1/2 (65000lb)
Check all 4 waste-gates ON
Stick pulled 1/3 : remember – this is a 3-point take-off so no conventional rotation!
Reset timer if needed. Start timer
Park Brake to OFF
Set manifold pressure 46
Engines protected from wind : -100rpm / 10kt PA should be > 42 inches of mercury
While IAS > 30kt = unlock tail wheel
Spontaneous 3-points take-off at or above 90mph
C.2.2 - INITIAL CLIMB
Park Brake ON
Gear UP
Maintain 500ft/mn max
105mph : flaps UP
Maintain 500ft/mn max > 130mph
Maintain 130mph > 1500ft above ground
Turn IDI ON : Master, Auto, Servos
Set manifold pressure 42
Set prop speed 2400 rpm
Turn off left landing light
When wings are levelled, turn fuel pumps OFF
When reaching 10000ft, set barometric pressure to 2992
alt.> 17000ft(+/-2000ft), set manifold pressure selector to 8.5
Maintain vertical speed between 500ft/mn and 1000ft/mn
Close cowl flaps
To reach very high altitude, refer to manual : Engine management
Turn off beacon
Ceiling : 50000lb = 38000ft (75mn from sea level)
Ceiling : 65000lb = 32000ft (50mn from sea level)
When IDI alarm rings, Target FL within 300ft = reduce throttle to obtain +200ft/min
Check IDI has locked onto target FL
When the plane levels off, adapt engines settings.
Calculate heading correction
Turn Auto IDI OFF
IDI : set corrected heading
IDI : set BANK according to weather and payload
IDI : turn Auto ON
Maintain speed (20000ft: max 215mph) (38350ft: max 125mph)
NB : Begin Check-List F at least 60mn before next waypoint
Turn on beacon
Turn fuel pumps ON
Turn anti-ice on (all systems)
Turn pitot heat on
Mixture lock AFT to on
IDI : SERVOS off
IDI : auto off
Dial new low flight level
IDI : Master off
Slow down 150 mph
IDI : Master on
IDI : Auto on
IDI servos on
All 4 waste-gates to on
Torque limiter to none
Open cowl flaps
MPS set to 7
Set rpm to 2500
RPM lock down to off
Cut throttles
Control descent rate with throttles
150mph max, -1500ft/min max
At 10000ft, control tower for altimeter setting
Fuel pumps ON
Waste-gates ON
RPM lever lock on (up)
Set prop speed 2500rpm
Set 125 mph
Torque limiter set to 1/5
Brake Primer set according to landing strip surface
Landing lights ON if needed
Navigation Lights ON
Manifold Pressure between 32 and 38 inches of mercury
IDI master off
IAS below 147mph
Flaps 1/2
IAS below 105
Unlock Park Brake
Gear down
Flaps all down
Engine protected from wind : -150rpm
Over the runway end : engines to idle + wind difference
!!! Contact 3-Points !!! (nose up slightly)
Plane on ground and lined up : tail wheel lock
60mph = stick tail to ground
Stall inboard engines - Turn off fuel valves 2 & 3
Feather inboard engines
50mph : regular braking
H.1 - WITH NO FIRE
IMMEDIATELY feather the prop
IDI activate Emergency
Set manifold pressure 46 - set rpm 2500
Stabilise with trims (rudder first)
ATTEMPT TO RESTART (B.2.1) ; IF ATTEMPT FAILS =
SHUT THE ENGINE DOWN AS IF IT WORKED NOMINALLY
Mixture : AUTO system locked FORWARD (disengaged)
Turn fuel pump to OFF
Throttle full aft
Feather the prop
Mixture : full lean
Magnetos : OFF
Turn generator OFF
Push the torque limiter to +1/10 position
Transfer fuel from affected side to central tank
!!! DO NOT RE-ENGAGE AUTO systems !!!
H.2 - WITH ENGINE FIRE
!!! DO NOT USE EXTINGUISHER NOW!!!
!!! DO NOT ATTEMPT B.2.1 !!!
!!! FUEL PUMP MUST STAY ON !!!
IMMEDIATELY feather the prop
IDI activate Emergency
Set manifold pressure 46 - set rpm 2500
Stabilise with trims (rudder first)
Turn generator OFF
Throttle full aft for faulty engine
Mixture : AUTO system locked FORWARD (disengaged)
Mixture : full lean
Magnetos : OFF
!!! TURN ON EXTINGUISHER NOW !!!
Transfer fuel from affected wing TO the other wing: Leave the transfer valve set in the FROM position on the damaged wing in order to keep the tank depressurized
ASAP, divert to land
Begin CHECK-LIST I
I - EMERGENCY LANDING
If possible : empty tank 2 (belly tank)
Mixture : AUTO system locked FORWARD (disengaged)
Set rpm 2500
RPM : AUTO system locked DOWN (disengaged)
All payload jettisoned
If landing on rough terrain : gear UP, flaps all down
If landing on runway : Gears DOWN, flaps 1/2
If landing gear out-of-order : GEAR UP
5 seconds to impact : feather props
5 seconds to impact : all mixtures full lean